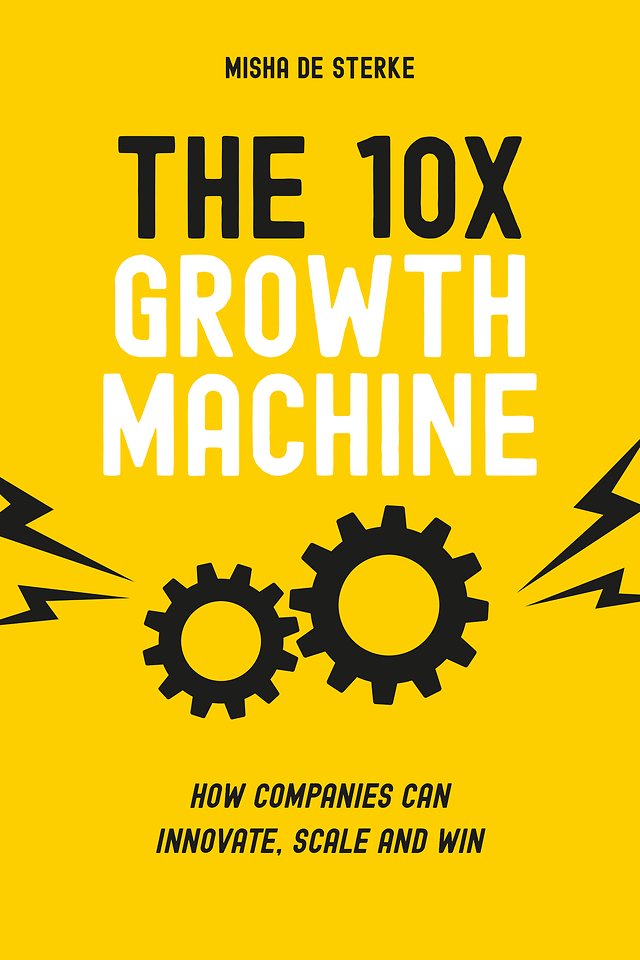 Misha de Sterke
Misha de Sterke is a corporate innovation and startup expert and has extensive experience. Meer over Misha de Sterke
Misha de Sterke: 'Bestaande ondernemingen moeten voor innovaties hun sweet spot gebruiken'
Hans van der Klis
2 juni 2020
Innovatie- en startup-expert Misha de Sterke ontwikkelde een methodiek en aanpak voor grote ondernemingen die willen innoveren met dezelfde intensiteit als startups. In zijn boek The 10x Growth Machine maakt hij duidelijk dat dit alleen kans van slagen heeft als ondernemingen deze innovaties voor 'future growth' onderbrengen in een aparte entiteit. Lees het volledige artikel
Misha de Sterke
The 10x Growth Machine
How companies can innovate, scale and win
Paperback
Engels
2020
9789462763142
Op werkdagen voor 23:00 uur besteld, volgende dag in huis
Samenvatting
Innovate or die! How do you achieve long-term growth in a highly competitive business environment? Many established companies are facing a similar challenge. Sales from existing products is declining and the urgency to innovate the existing business and create new businesses is bigger than ever. Scale as a competitive advantage is no longer sufficient to compensate for the slow speed of corporate innovation. We need to leverage the organizations scale and assets and combine this with the speed entrepreneurs have in building businesses.
Product innovation is in most companies a priority, but business model innovation is failing while it is considered as one of the most important drivers for revenue growth. Hackathons, accelerators and startup collaborations are the vehicles for innovation, but what is the impact of these initiatives? Does it lead to real business impact or is it fair to say that most innovation projects end up at the graveyard?
How do you turn this around? My thesis is that innovation beyond the core business has zero change of survival in the current organization structures. These types of innovations need to be incubated in a different way, separate from the core business. The 10x Growth Machine helps companies incubate innovations systematically from idea to scale. No isolated innovation projects or disconnected initiatives. The 10x Growth Machine runs a portfolio of initiatives that have C-level protection and is rooted in the strategy of the organization. The culture of The 10x Growth Machine is entrepreneurial, and the progress of the (corporate) startup teams are measured and funded by a venture board that acts as an internal investor.
In this book, innovation expert Misha de Sterke describes a battle-tested methodology with a framework, a canvas, seven models and eleven tools, to start building your own 10x Growth Machine.
Specificaties
Verschijningsdatum:
18-3-2020
Interviews en artikelen
(1)
interview
Misha de Sterke: 'Bestaande ondernemingen moeten voor innovaties hun sweet spot gebruiken'
Hans van der Klis
2 juni 2020
Innovatie- en startup-expert Misha de Sterke ontwikkelde een methodiek en aanpak voor grote ondernemingen die willen innoveren met dezelfde intensiteit als startups. In zijn boek The 10x Growth Machine maakt hij duidelijk dat dit alleen kans van slagen heeft als ondernemingen deze innovaties voor 'future growth' onderbrengen in een aparte entiteit.
Over Misha de Sterke
Misha de Sterke is a corporate innovation and startup expert and has extensive experience. In the corporate world as an interim manager and staff advisor on digital transformation, and as an entrepreneur building different tech-driven startups. He works for numerous Fortune 100 companies on disruptive strategy and venture building, focusing on achieving growth. He advises C-level executives on how to build the 10X Growth Machine and he coaches startups on turning ideas into profitable businesses. He also lectures at several Dutch universities about entrepreneurship and innovation and has a special interest in managing irrationality and tension in teams to forge bold outcomes. He is currently leading a corporate innovation practice that operates on a global scale.
Andere boeken door Misha de Sterke
Inhoudsopgave
Warning
Foreword by Peter van Grinsven

Chapter 1 Corporate innovation – an introduction
1.1 Creative destruction is accelerating
1.2 The growth paradox and need for continuous innovation
1.3 Corporate innovation challenges
1.4 Why continuous innovation is hard for corporations

Chapter 2 The 10x Growth Machine system
2.1 10x Growth Machine building blocks
2.2 10x Growth Machine principles – in pursuit of excellence
2.3 10x Growth Machine Canvas

Chapter 3 Growth Strategy and Portfolio management
3.1 Disruption and understanding the periphery
3.2 Growth Portfolio management – The link between strategy and execution
3.3 Venture boards – Think and act as an investor
3.4 Metered funding
3.5 Resource allocation process

Chapter 4 Corporate Venture Building
4.1 What problem should corporate venture building solve?
4.2 Way of working: Connect disruptive strategy with Lean Startup and Growth Hacking
4.3 The startup journey
4.4 End-to-end innovation process

Chapter 5 Growth Accounting
5.1 How Growth Accounting works
5.2 When you don't use innovation accounting
5.3 Metrics
5.4 Traps of measuring innovation

Chapter 6 Innovation management
6.1 Corporate startups, a two- front war
6.2 Organizing the intrapreneurship function
6.3 Two sets of rules and policies
6.4 Managing the startup to scale-up process
6.5 Pathways to business model discovery and validation

Chapter 7 Transformation for growth – from Minimal Viable Innovation Projects to systematic Growth Machine
7.1 Phase one: Art of the Start – build first success, learn how it works and create allies
7.2 Phase two: Governance – implement system building blocks, engage the organization
7.3 Phase three: Scale – perfect the practice, build A-teams within the organization

Afterword - Envisioning a Future-Proof organization
Notes
Literature
Aanbevolen live events...
Mensen die dit boek kochten, kochten ook...